Smart solutions for reduced inventory costs, faster access to components, and better ergonomics.
Too many companies lose a lot of time and money by not storing and picking materials in an efficient and ergonomic way. If you receive materials in bulk in your business, for example, on pallets, in bundles, boxes, or cartons, and then pick items one by one or in smaller units, then we have solutions for you.
Smart Storing is the logical choice when you want a storage solution that saves time, money, and space."
Contact us, we'll help you find the best solution!
An overview of our range can be found below.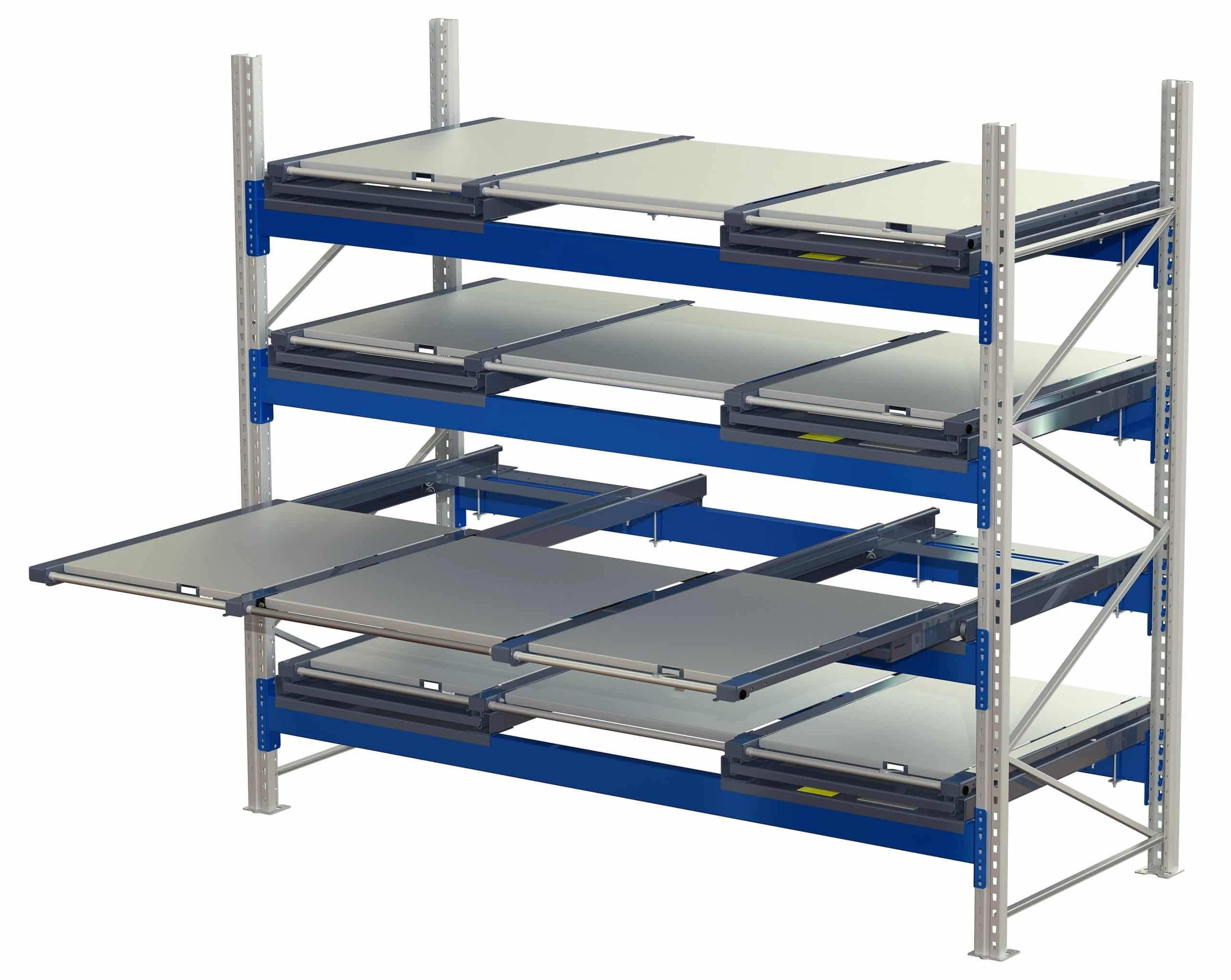 Wide pull-out units
Large beam-mounted wide pull-out units are suitable for storing flat materials such as sheets or other panel materials. With practical accessories, you can also store long goods that you can access efficiently and easily.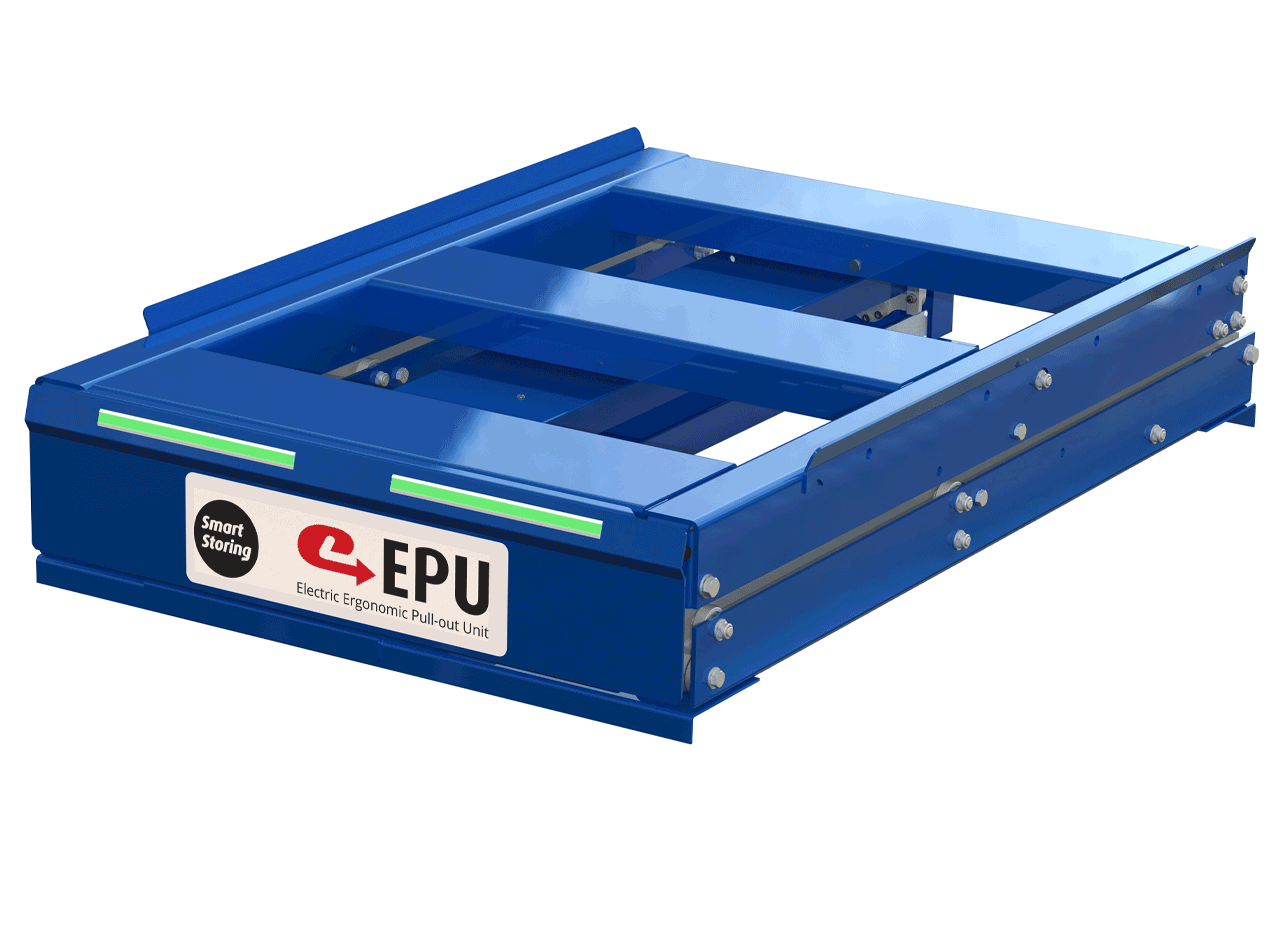 Electric pull-out units
With Smart Storing's electrically powered pull-out unit, ergonomics can be further improved by eliminating all manual handling forces. The units can handle a load of up to 1500 kg.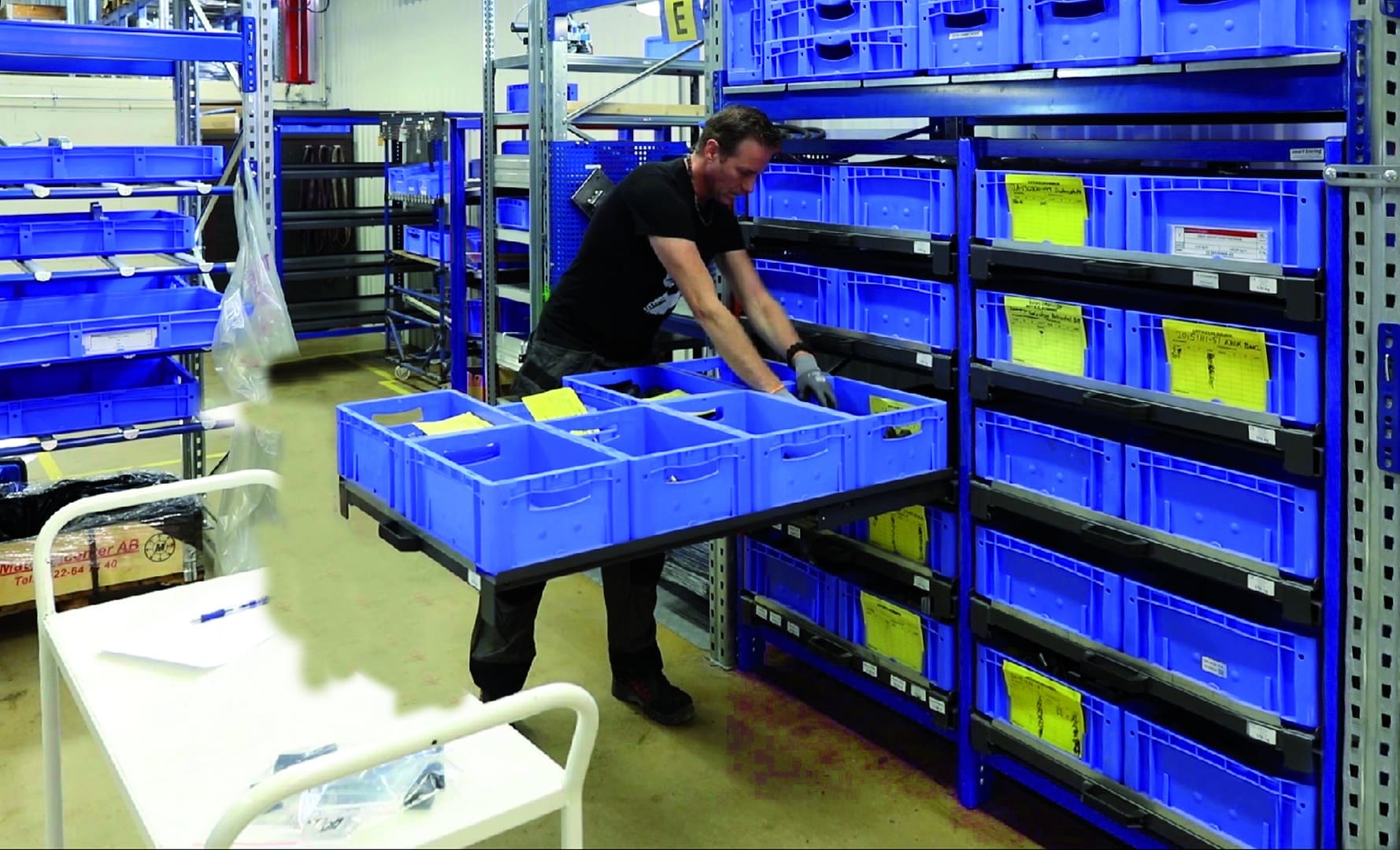 CSU - Compact Storage Unit
With these, you get a compact storage solution with a variety of easily accessible items on an area not much larger than a Euro pallet (1206 mm x 880 mm d x w). The foundation is a sturdy steel-framed upright with a tight hole pattern that offers ample customization possibilities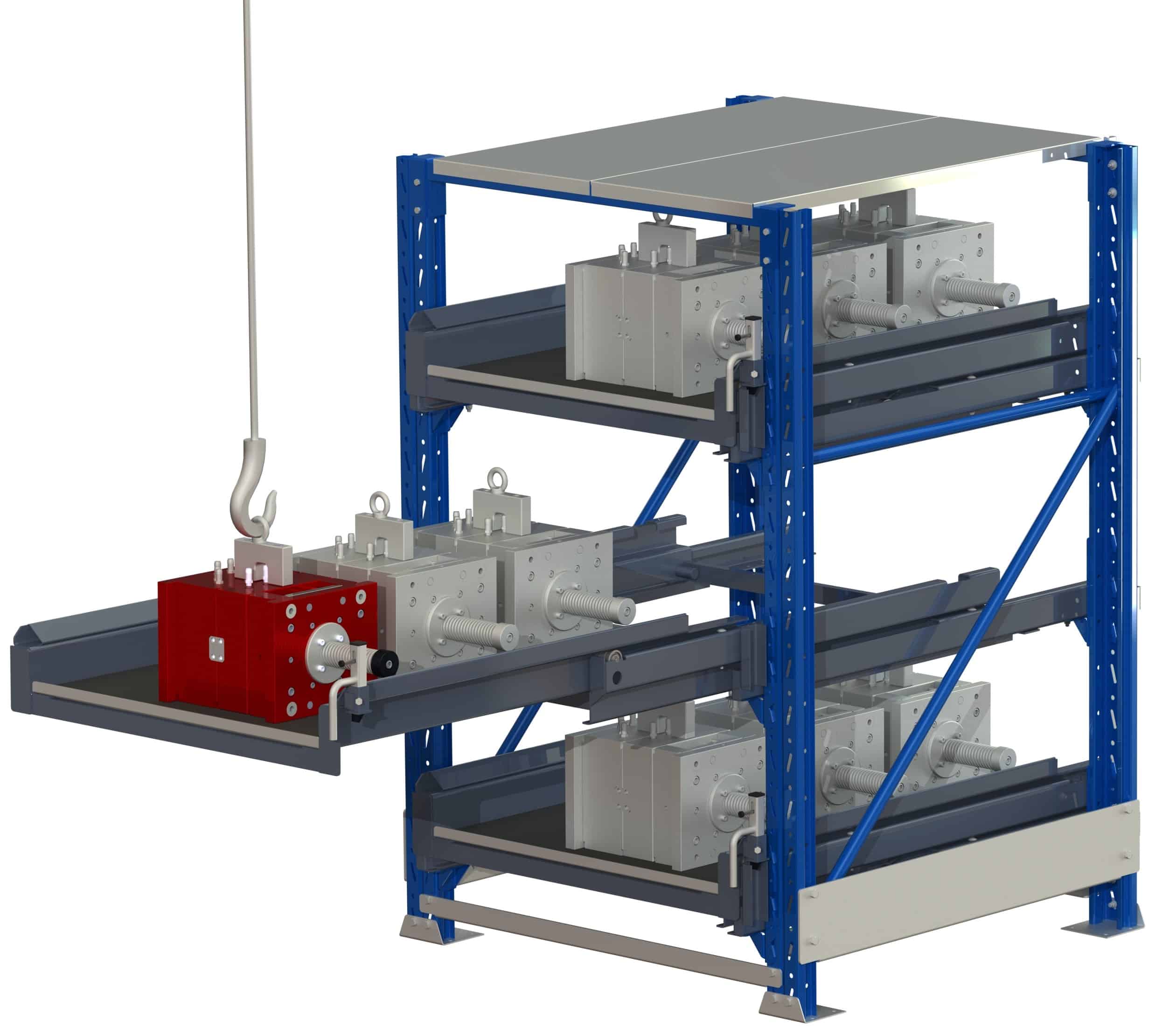 TSU – Tool Storage Unit
With a TSU, you have 2-5 extendable shelves with 100% extension capacity and a maximum load of 600 kg per shelf, allowing you to access them with equipment such as a crane or other lifting devices. Perfect for heavy and delicate tools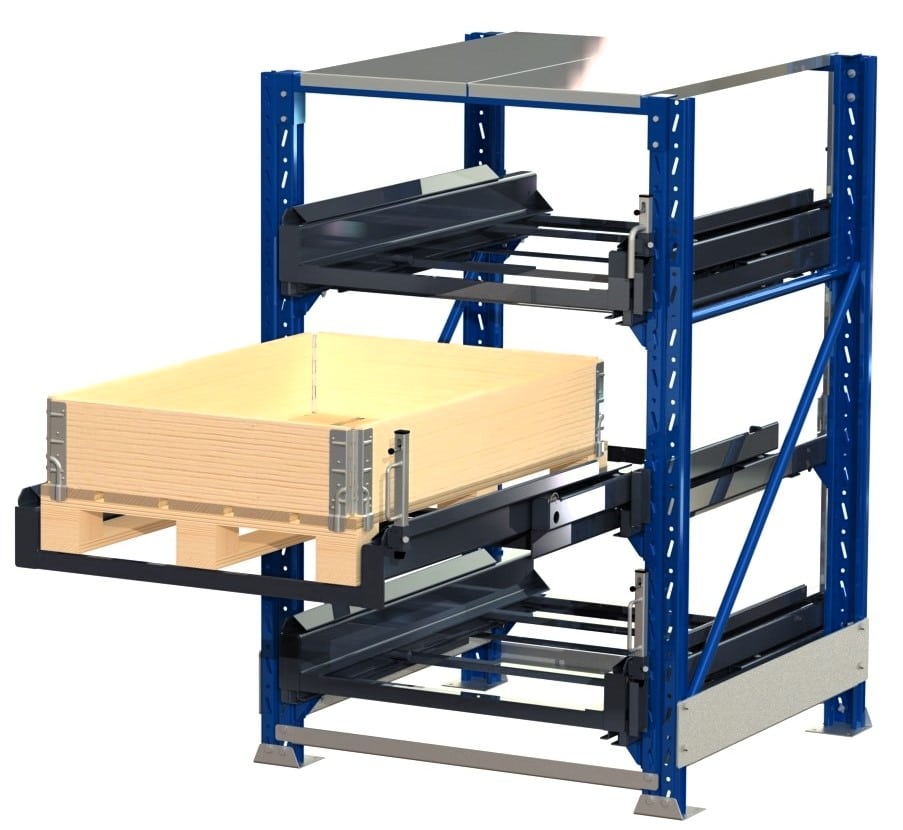 PSU - Pallet Storage Unit
A PSU is a complete portable pallet rack with pull-out units for flexible pallet storage. It has 2-3 extendable shelves with 100% extension capacity and a maximum load of 600 kg per shelf.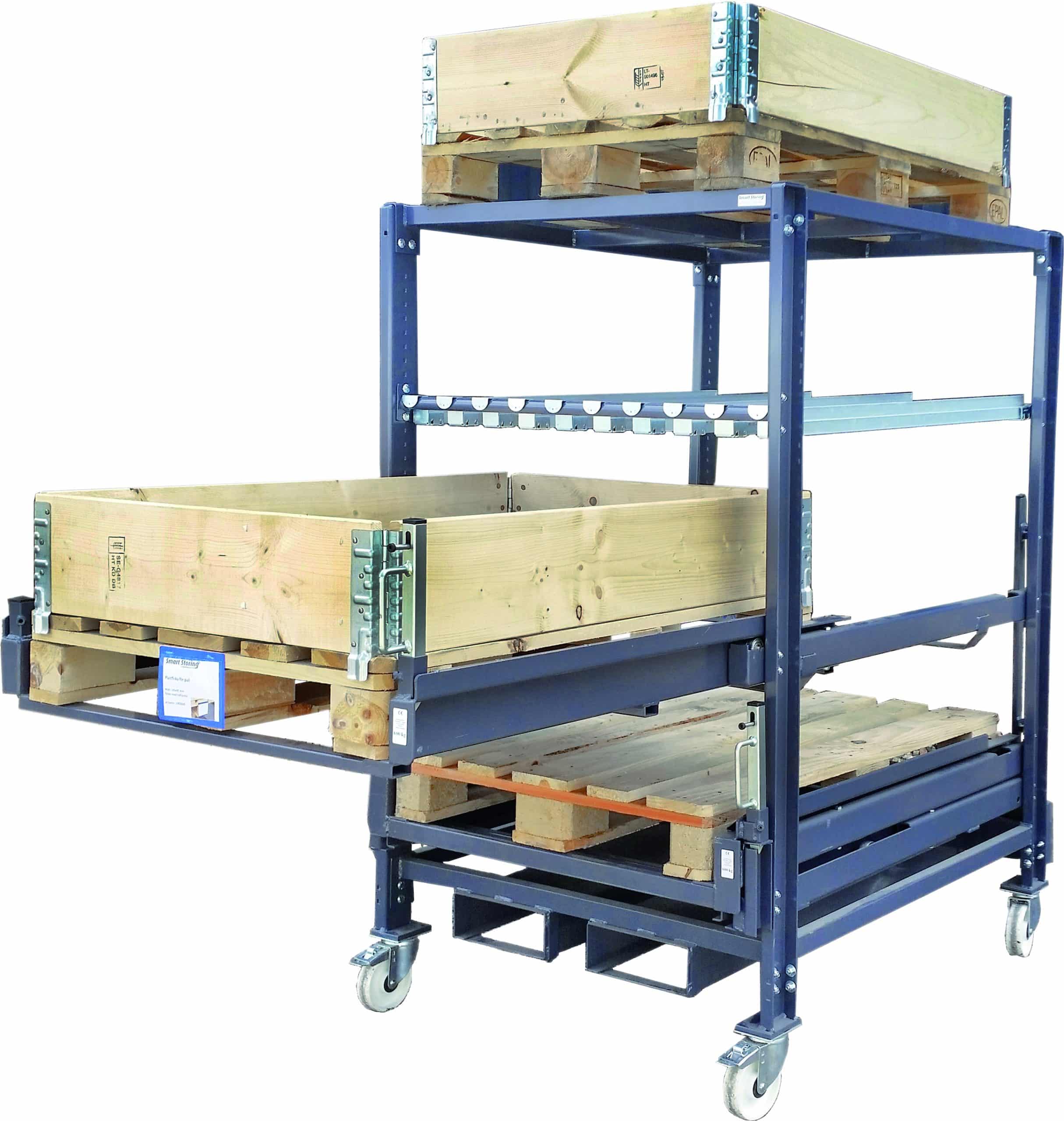 MPU - Mobile Pallet Unit
Mobile material and kit carts are similar to CSU but designed for handling heavier goods on pallets. You can combine pallet handling and box handling with a combination of FIFO shelves with roller tracks.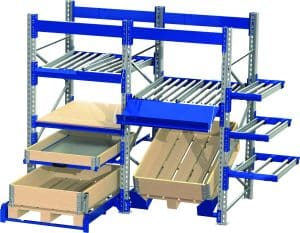 Assembly workstations
To make your production as efficient as possible, we have systems that are tailored to the needs of your workplace. We build modules so that you can optimize every meter according to your production area. Essential if you are working with Kan-Ban and Lean production.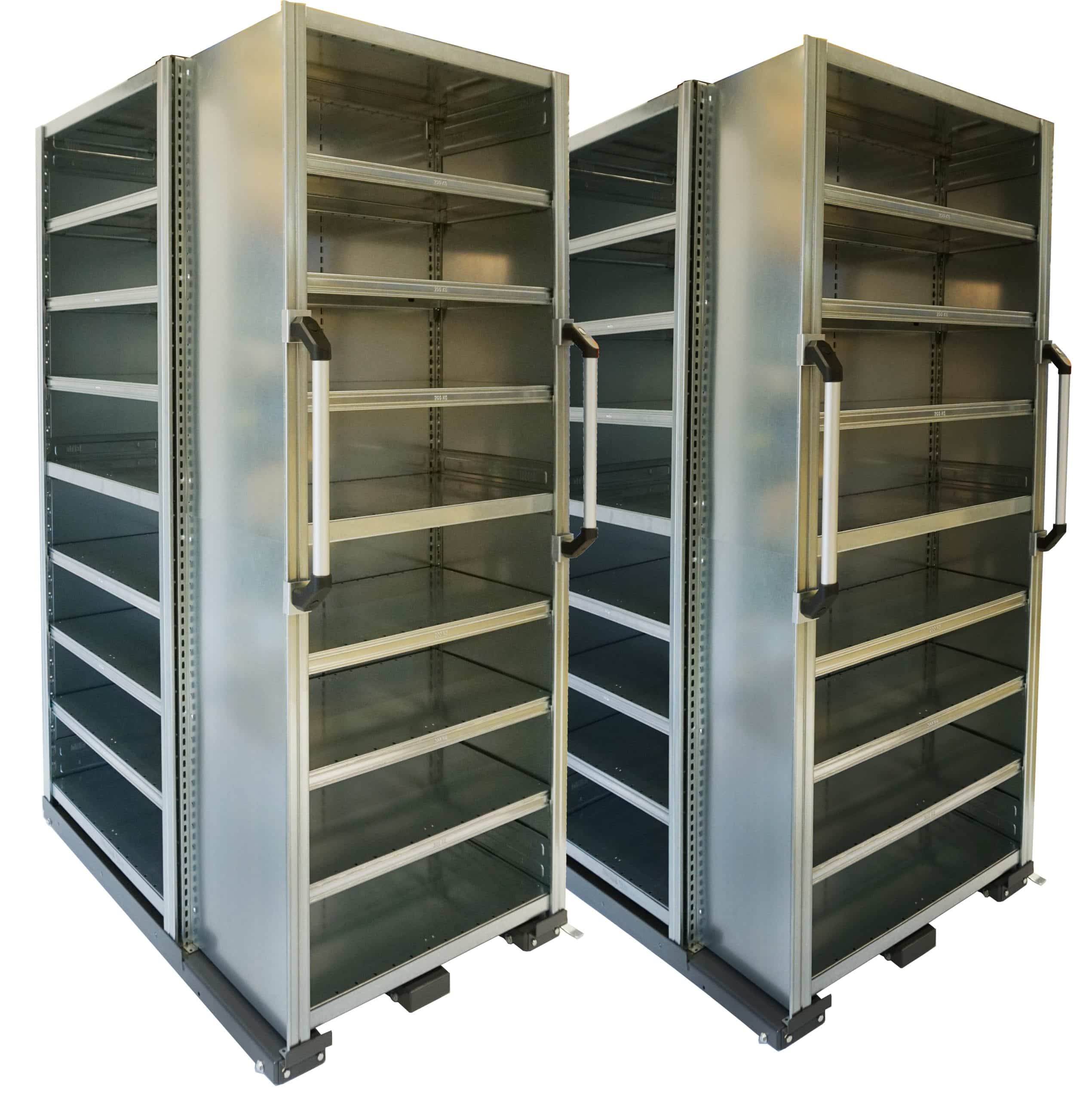 Trojka
A 'Trojka' is a pull-out shelving unit with three storage sides. In the retracted position, the short side is exposed for quick picking, for example, in an e-commerce warehouse. By pulling out the entire unit, you can access the other storage shelves which can function as a buffer or storage for slower-moving items.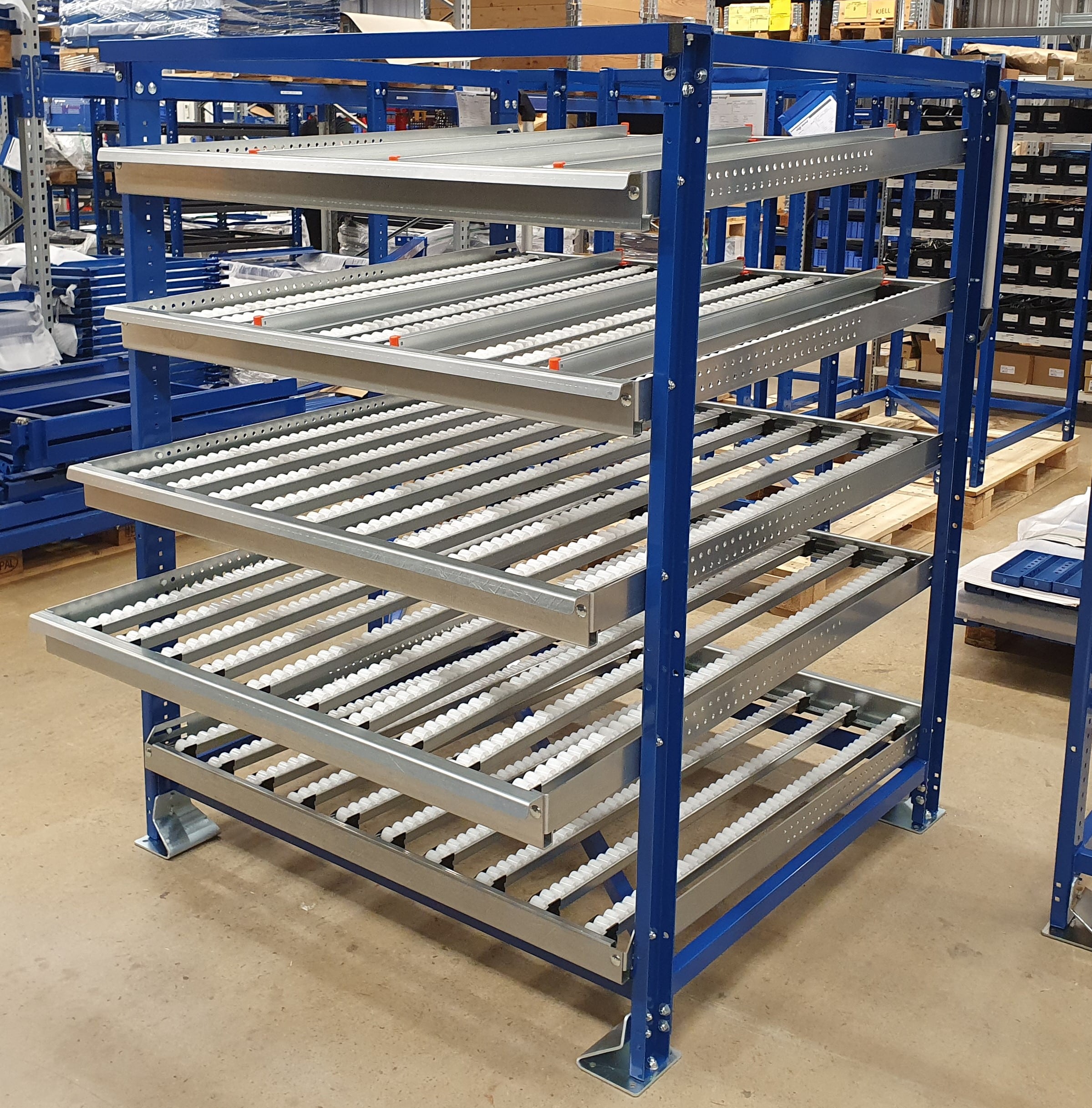 FIFO carts
Heavy-duty carts with FIFO gravity shelves with roller tracks, ensuring items are always at the front on the picking side. A robust modular construction capable of handling up to 600kg per level. The image shows a cart where the wheels have not yet been installed.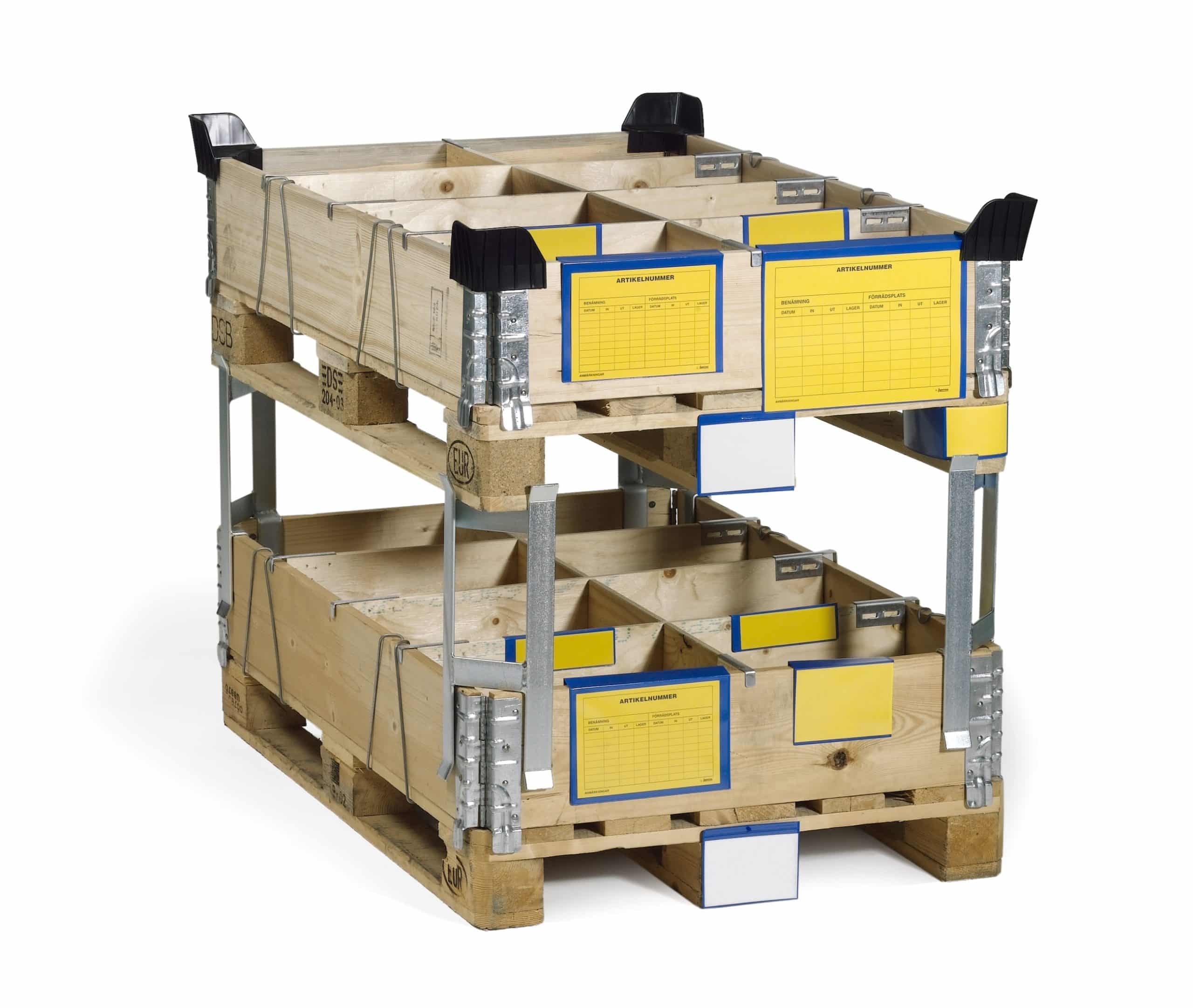 Pallet accessories
With pallet accessories, you can divide your pallets, stack your pallets, and quickly create order and tidiness, making it easy to find your products.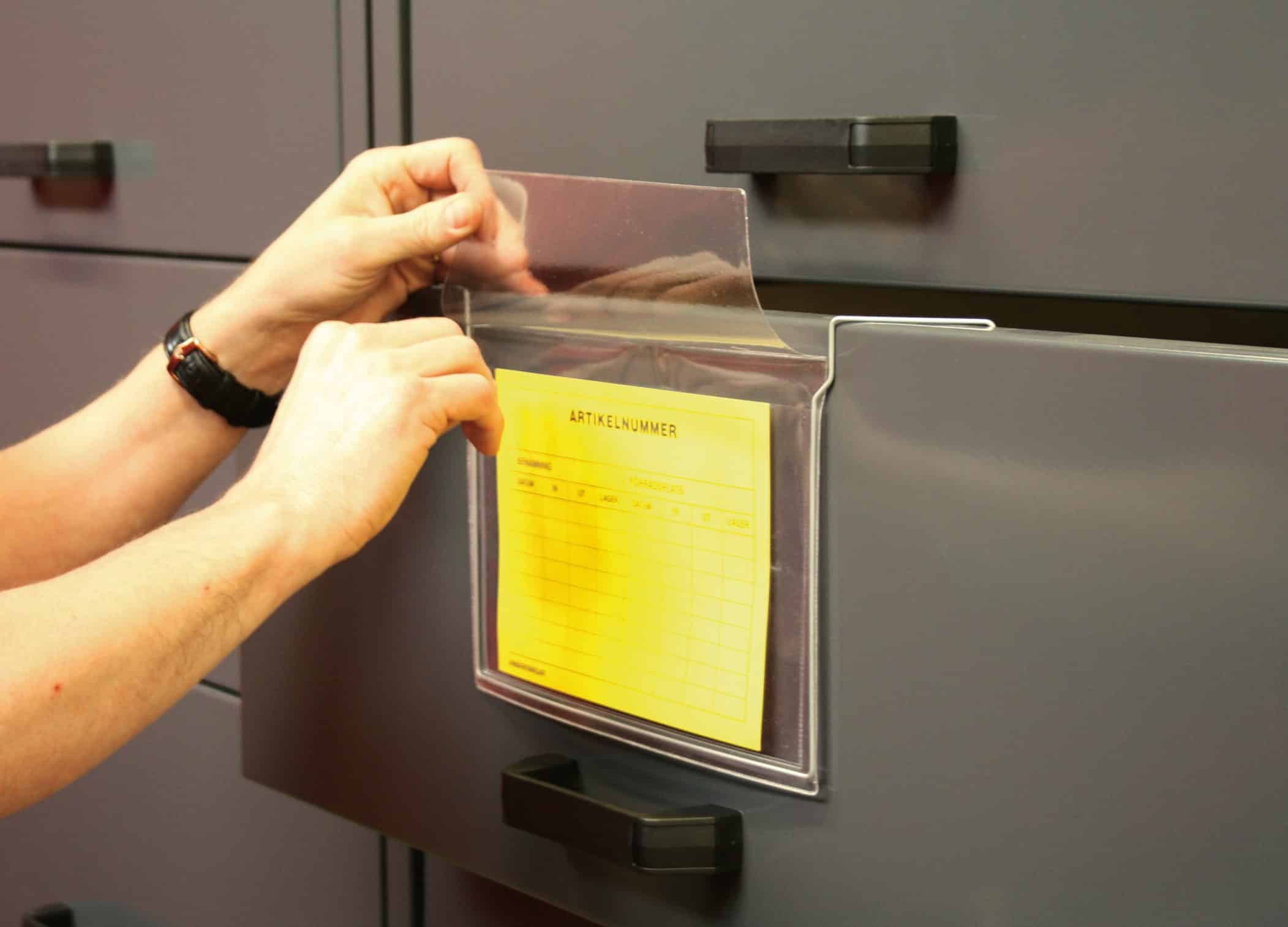 Labeling
The labeling of finished products, components, tools, and other goods is a crucial success factor in any business. By organizing, it's easy to find the right items, saving time and preventing costly inefficient material handling.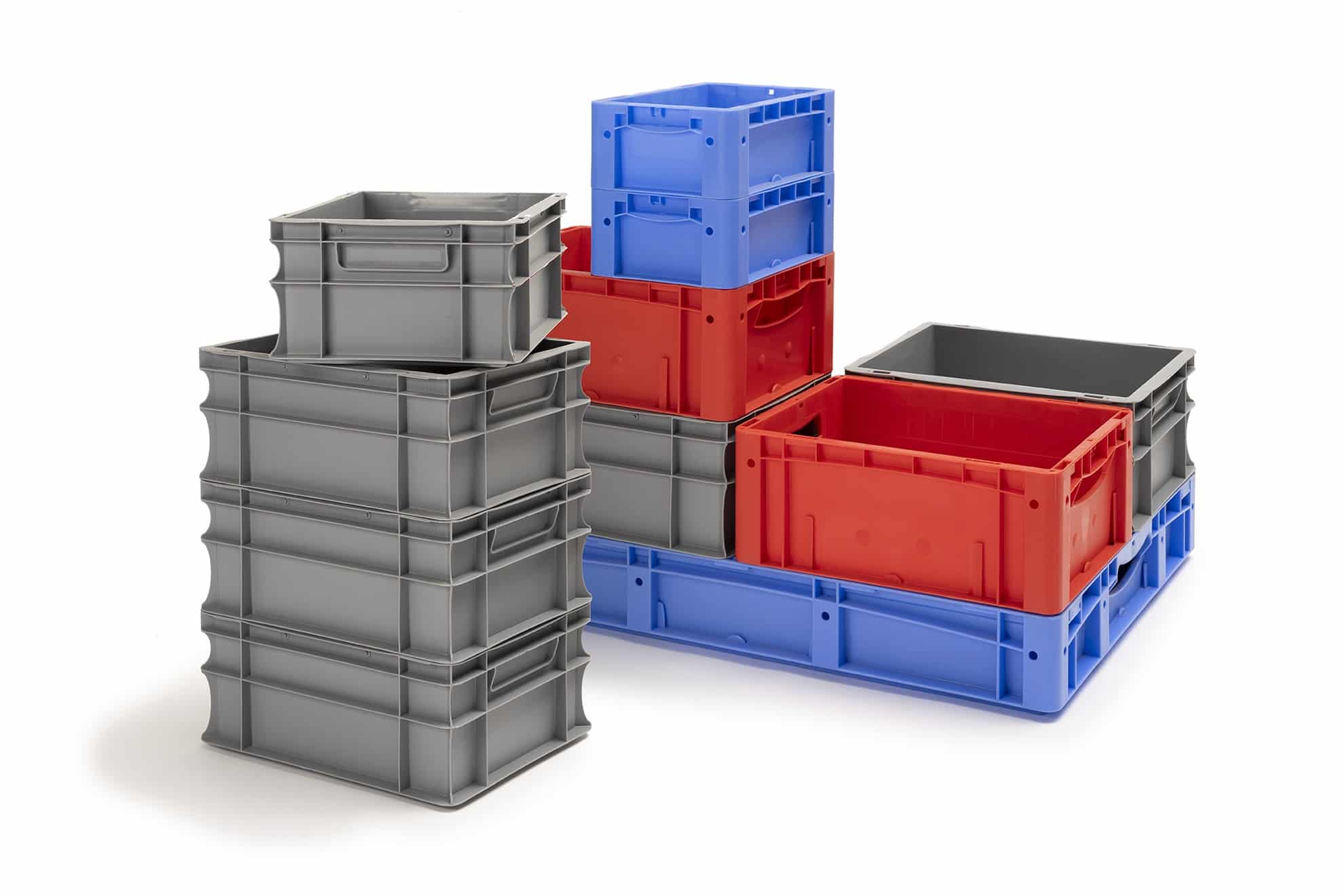 Picking and Storage boxes
Divide your storage EVEN MORE to store even smaller components. Quickly create order and tidiness so you can easily find your products. Provides the operator with a good overview and makes it easy to find what is needed. Combine different sizes and models to fully customize according to your needs.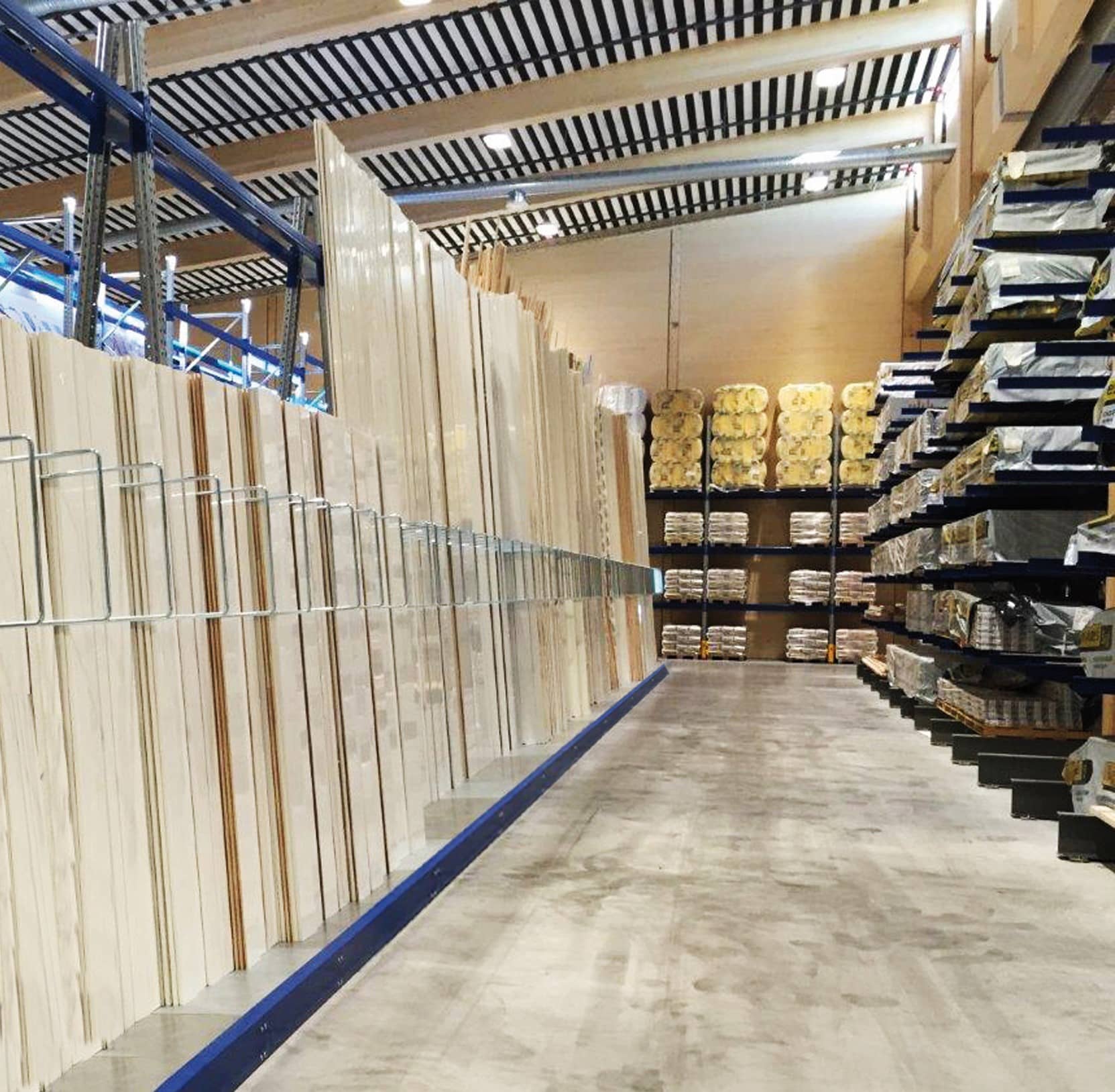 Lodur - vertical storage
Lodur is a flexible storage solution for vertical materials. Lodur features specially designed vertical dividers, the thinnest on the market, allowing you to divide storage into very narrow item spaces, providing more items per linear meter, and are easy to adjust if the inventory changes.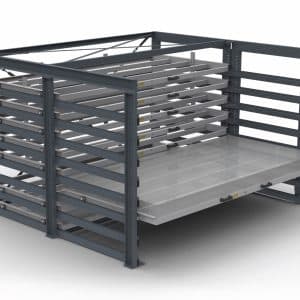 Sheet & Plate Storage
Smart Storing's sheet & plate storage provides you with a highly efficient and compact storage solution for materials that are typically bulky. We have products for sheet handling up to 3000 kg per storage location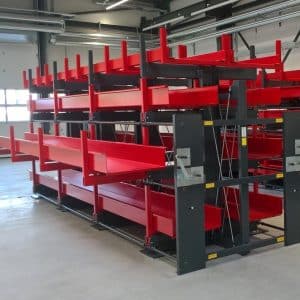 Gymer - Long Goods Storage
If you have long materials with a maximum length of 31 meters and a maximum weight of 7.5 tons per location, then we have the products for you. Each storage level is extendable, allowing you to access them with a crane